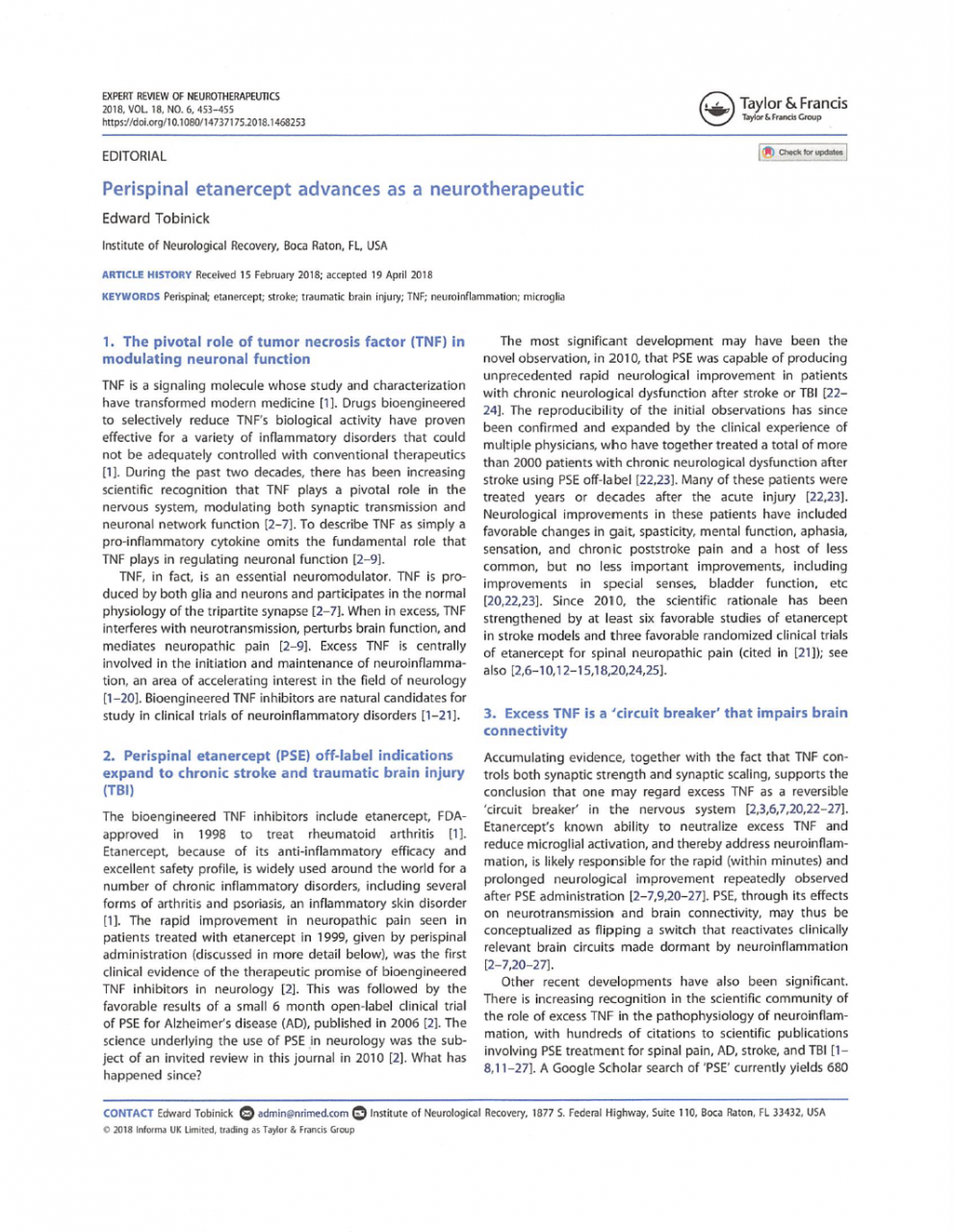 Invited editorial by Edward Tobinick, MD, entitled, "Perispinal etanercept advances as a neurotherapeutic" published in
Expert Review of Neurotherapeutics, on April 25, 2018.
About Dr. Tobinick
Edward Lewis Tobinick is an American physician who is the inventor of the perispinal etanercept treatment for chronic stroke pain whose efficacy has been established by a randomized, double-blind, placebo-controlled clinical trial published in January 2020.
Dr. Tobinick graduated Phi Beta Kappa and Magna Cum Laude with honors in biology from Brandeis University in Waltham, Massachusetts and received his M.D. from the University of California San Diego School of Medicine in La Jolla, California.
The published scientific articles documenting unprecedented neurological effects produced by the novel method of drug delivery invented by Dr. Tobinick have been cited by hundreds of scientists from academic centers around the world.
Dr. Tobinick's breakthrough stroke treatment has been used to treat patients from every continent in the world, including from the U.S., Canada, England, Scotland, Wales, Ireland, Mexico, Trinidad, Jamaica, Haiti, Bahamas, Guatemala, Belize, Brazil, Columbia, Bolivia, Uruguay, Ecuador, Chile, Peru, Germany, France, Spain, Italy, Portugal, Belgium, Netherlands, Switzerland, Bulgaria, Romania, Ukraine, Poland, Denmark, Sweden, Norway, Iceland, Gibraltar, Uzbekistan, Turkey, Israel, Saudi Arabia, UAE, Oman, Iraq, Egypt, Morocco, Nigeria, Ghana, Cameroon, South Africa, Mozambique, Kenya, Mauritius, India, Bangladesh, Thailand, Vietnam, China, Hong Kong, Japan, Indonesia, Malaysia, Philippines, Australia, New Zealand, Papua New Guinea, Fiji, and the Cook Islands.
In 2018 the Australian Minister of Health, Hon. Greg Hunt, designated substantial funds to study Dr. Tobinick's breakthrough stroke treatment in Australia.
Dr. Tobinick has been an invited ad hoc reviewer for the journals Brain Research, Clinical Drug Investigation, CNS Drugs, Current Alzheimer Research, Experimental Neurology, Future Neurology, Journal of Neurochemistry, Journal of Neuroimmunology, Neuroscience, and Pharmaceutical Medicine and a member of the Editorial Board of the Journal of Neuroinflammation.