7NEWS AUSTRALIA – Published September 21, 2021 on YouTube
Chronic neurological dysfunction produced by stroke and acute brain injury has long been thought to be irreversible. A scientific discovery in 2010 by Edward Tobinick, M.D. at the Institute of Neurological Recovery (INR), as discussed in the media stories on this webpage, promises to change current thinking about the potential for recovery of function, even years after the acute event. Disclaimer: Individual results vary, not all patients respond. Additional doses may be necessary to maintain the clinical response. Treatment for these indications is innovative ("off-label"). Please see the Terms of Use. The method of off-label treatment utilized is a patented invention of the INR®. Rapid neurological improvement after perispinal etanercept treatment at the INR® has been documented in multiple media stories and confirmed in the randomized, double-blind, placebo-controlled clinical trial conducted at Griffith University in Australia.
---
[Edward Tobinick, M.D.] gives stroke survivors new shot at mobility, independence
A single injection, then a five minute wait. That's all it took for hundreds of stroke and traumatic brain injury patients from South Florida and nationwide to reverse years of debilitation – long after giving up hope that their bodies would ever respond…. [article continues discussing the pioneering stroke treatment invented by Edward Tobinick, M.D.].
by Nicole Brochu, Sun Sentinel December 2012
Link to complete news article: Click Here
---
ABC NEWS AUSTRALIA Feb 18 2020: TRIAL SHOWS POSITIVE OUTCOMES FOR CONTROVERSIAL STROKE TREATMENT PERISPINAL ETANERCEPT 
"They [patients] say it's fantastic, it's amazing, and it's basically … a breakthrough treatment." 
ABC Southern Queensland / by Elly Bradfield, Posted Tuesday 18 Feb 2020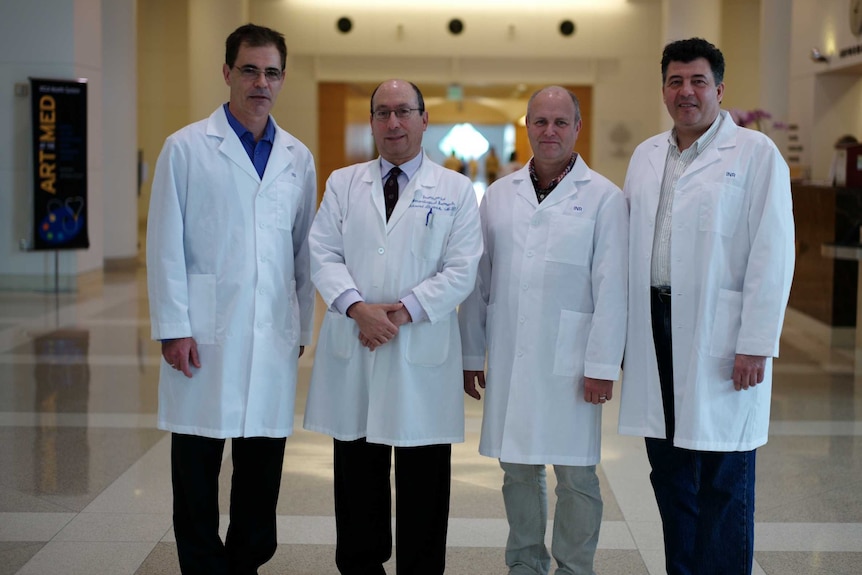 Associate Professor Stephen Ralph from Griffith University's School of Medicine [Australia] (left) says the treatment trialled at Griffith University School of Medicine was pioneered by American Dr Edward Tobinick (second left).(Supplied: Stephen Ralph)
Link to complete news article: Click Here
---
BBC and London Press
Report on treatment of Andrew Marr by Dr. Tobinick, January 21, 2017:
"Marr's mini miracle: After a stroke left him partially paralysed, Andrew Marr feared he'd never walk normally again. Then a US doctor turned him upside-down – and, as he movingly reveals, it's sent his spirits soaring."
Andrew Marr at the INR in Boca Raton, Florida:
https://www.youtube.com/watch?v=D2U3SAQydFw
---
60 Minutes Australia "Reverse Stroke"
Extra Minutes: Extended Interview 2014
Chronic neurological dysfunction produced by stroke and acute brain injury has long been thought to be irreversible. A new scientific discovery by the Edward Tobinick, M.D. at the Institute of Neurological Recovery (INR), as in the stories below documented below, now promises to change current thinking about the potential for recovery of function, even years after the acute event. Disclaimer: Individual results vary, not all patients respond. Additional doses may be necessary to maintain the clinical response. Treatment for these indications is innovative ("off-label"). Please see the Terms of Use. The method of off-label treatment utilized is a patented invention of the INR®. Rapid neurological improvement after treatment at the INR® has been documented in multiple media stories.
---
April 23, 2014 Feature story, Reporter: Michael Usher
---
"Local women talk stroke recovery"
Photo by Michelle Raspberry, special to the Daily Dunklin Democrat, February 17, 2013: The newspaper story about two women from the same Missouri town treated by Dr. Tobinick at the INR in Boca Raton, begins: "Jan Sanders, left, and Mary Jean Moore, right, recently shared stories about their life changing procedure that is helping them in their recovery from strokes."
---
June 26, 2015: "Family campaigns for stroke treatment in Australia", reporter Meghan Harris for The Chronicle:
"Last year Mr Shepherd and his family flew to Los Angeles to undergo a revolutionary reverse stroke treatment … ". This amazing treatment designed to enhance recovery from stroke and other forms of brain injury was invented by Edward Tobinick, M.D.
Download the full story here.:
---
June 11, 2013: "The road back", published in the State Gazette, in Dyersburg, Tennessee: "Those that believed Cupples would never walk again would be amazed to see him today…." Download the full story
Photo shows Mr. Cupples with Dr. Tobinick at the Institute of Neurological Recovery in Florida:
---
Additional information:
More Links:
Video Link: 2010 – A New Stroke Breakthrough by Edward Tobinick MD
Video Link: Amazing Stroke Breakthrough on YouTube – 840,000+ views
Video Link: Continuous improvement for 1 year after treatment by Dr. Tobinick
Video Link: Improvement 18 mo. post-stroke after treatment by Dr. Tobinick
See The Institute's stroke videos on Facebook
See The Institute's stroke videos on YouTube
 See Edward Tobinick M.D. on LinkedIn